The Heart of Argentine Tango in Vancouver
Classes, Workshops, Milongas, Practicas, Performances,
Cultural Events and Community Outreach
CLASSES AND WORKSHOPS
S P R I N G    S C H E D U L E  2 0 2 3
W O R K S H O P S

BEGINNER WORKSHOP
TUESDAY  May 23  6 – 8pm
$35 
FOLLOWER TECHNIQUE and EMBELLISHMENTS
SATURDAY  May 13  11am – 1pm
$30  ::: spaces limited / held at our home studio
1 0  W E E K   S E R I E S
THE TANGO WALK
Foundation 4 Week Series
TUESDAYS  6 – 7:20pm
May 30 – June 20
ALL LEVELS
4 week series  $100

DROP IN ::: for Intermediate and Advanced Dancers
TUESDAYS  7:30 – 8:30pm (+ practica until 10:30pm)
DROP IN Starting May 30th
INT +  / not for absolute beginners
$25 ( includes pasitos practica)
PLEASE REGISTER IN ADVANCE
NO PARTNER REQUIRED
Contact us for schedule and availability

We acknowledge that we gather, teach and dance on the traditional and unceded territory of the Coast Salish People. We are committed to working towards reconciliation.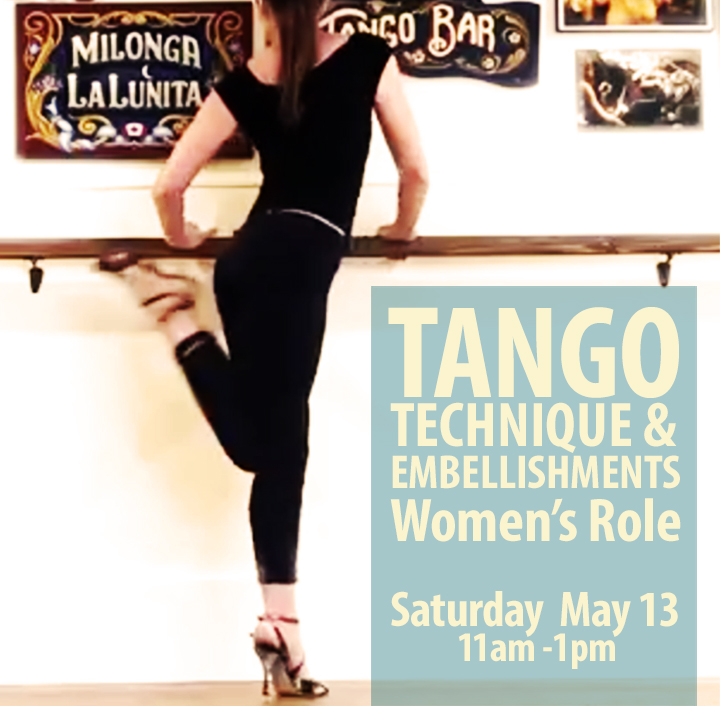 Technique  &  Embellishments




::: Women's Role Workshop :::
Exercises and drills for a grounded walk, stable pivots, proper disassociation with a focus on feminine role technique and embellishments. Individual technique makes your movements more effortless, improves your balance and increases your overall enjoyment and expression as a dancer. Classes are designed to condition the physical body (tone, control, posture) and expand your body awareness through conscious movement. Training in body mechanics, musicality, strengthening and stretching. A friendly space for asking questions and exploring what you need to develop your dance.
SATURDAY MAY 13th ::: 11am 1pm
$30
Held at our home studio
Small Group Format / Spaces Limited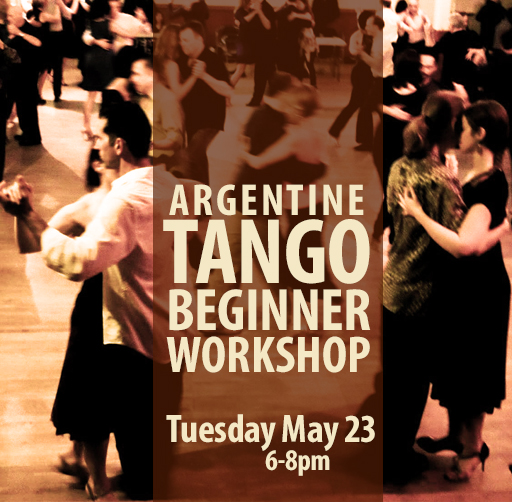 BEGINNER INTENSIVE WORKSHOP
::: 6-8pm Tuesday May 23, 2023 :::

Two Hour Beginner Crash Course
A wonderful introduction to tango or a refresher course for anyone who wants to review the fundamentals or start learning the other role. Clear explanations of basic tango technique, communication, culture and musicality by two instructors with fifteen years experience teaching tango. Enjoy a relaxed and fun evening of dancing and a tango demonstration.
You must pre-register for this

workshop

. Spaces limited. No partner required.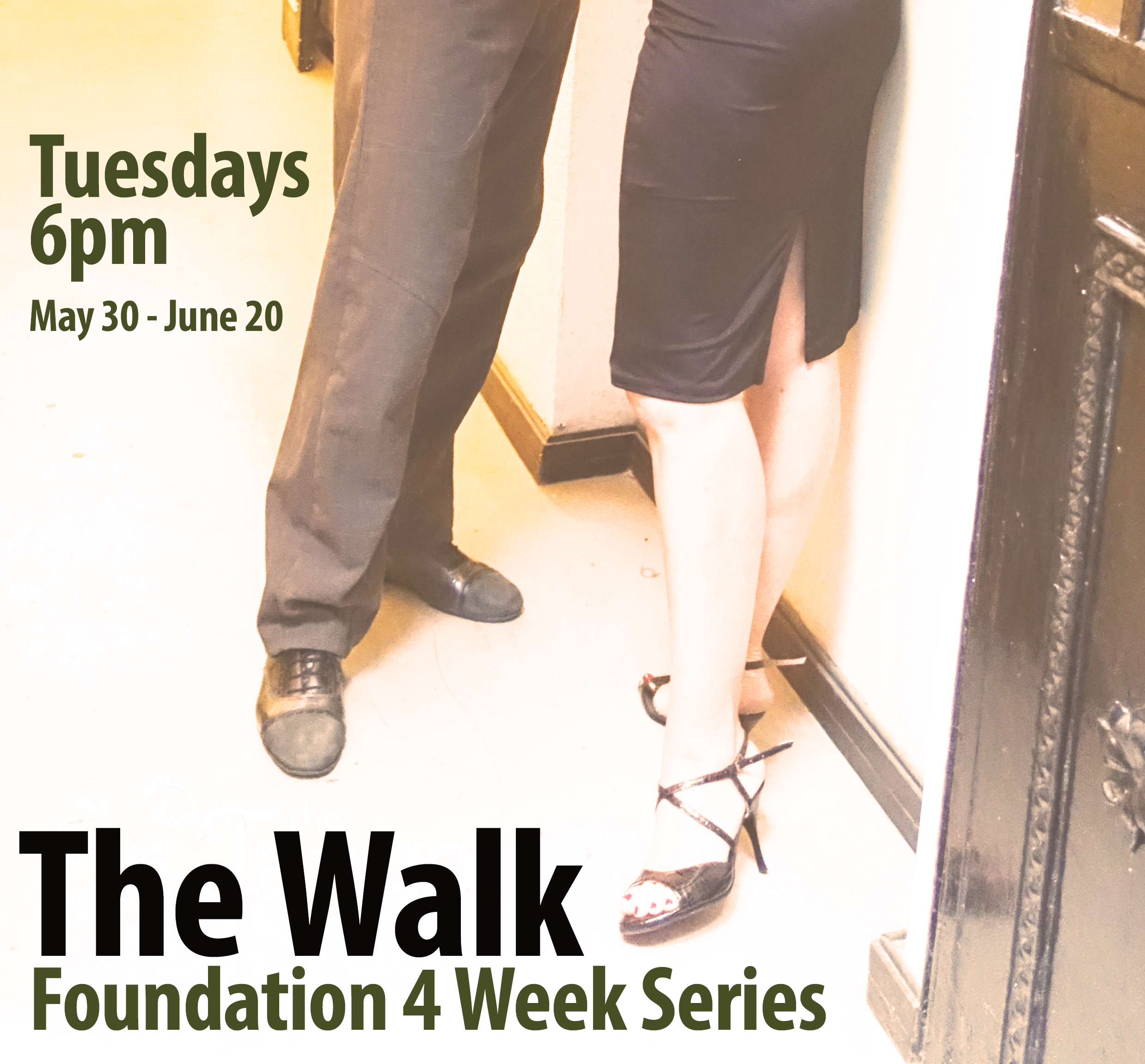 Foundation 4 Week Series

::: THE WALK :::

THE WALK
Our foundation series on the tango walk!! Essentials of partner communication and connection that build the foundation for learning tango. Embrace, walking in parallel and crossed system, transitions, musicality and density.
4 – Week Series
Tuesdays 6 – 7:20pm
May 30 – June 20
$100 per person
ALL LEVELS
no partner required
Technique warm up and partner exercises to help dancers build a strong foundation with a focus on communication and walking exercises. Taught by Santiago and Deborah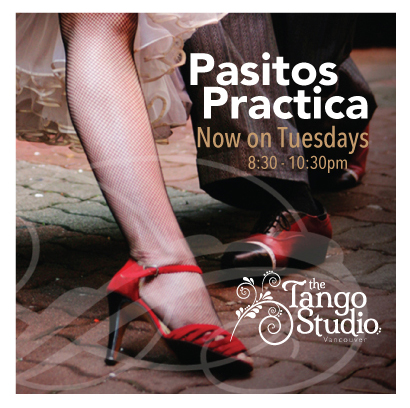 PASITOS PRACTICA

::: Now on Tuesdays :::


Every Tuesday 8:30 – 10:30pm
Entrance $10 at the door
Free for students enrolled in Tuesday classes at The Tango Studio
::: Mis Amigos De Ayer:::
Tango
1945
This version is by Orquesta Anibal Troilo with singer Floral Ruiz
Esta noche tengo ganas de aturdirme de recuerdos
con el frío denso y lerdo de las cosas del lugar,
recorrer las viejas calles por el tiempo transformadas
y entre piedras olvidadas empaparme de arrabal.
Me contemplan con asombro las estrellas y esta esquina
con perfume de glicinas y colores de malvón…
Debo estar acaso viejo, melancólico y más flojo,
que me sale por los ojos esta cálida emoción.
¿Dónde están mis amigos,
mis amigos de ayer?
Se me vieran llegar
como un duende y llorar…
y llorar al volver.
¿Se perdieron tal vez
por un rumbo sin luz,
sin destino… sin fe?
Por distinto camino
me perdí yo también…
¡Si me vieran llegar
como un duende y llorar
mis amigos de ayer?
Para qué llorar ahora lo que el tiempo se ha llevado,
si está muerto mi pasado como muerto está mi amor…
Una voz canta en mi oído mis canciones olvidadas
y la noche perfumada se hace toda una canción…
Me entristecen estas calles, las estrellas y la esquina
con perfumes de glicinas y colores de malvón…
Es que estoy mucho más viejo, melancólico y más flojo
y me sale por los ojos hecha llanto mi emoción.
::: Spring Film Project :::
The cherry blossoms have come and gone yet we tried to capture their message. Our beautiful city beneath the pink trees and a Vals that that invites you into the fleeting moment. The beauty of impermanence knowing that in the longest and darkest Winter there is the arrival of Spring!  Imagining the joy that is coming as our world lets go of all the restrictions and we are free to embrace and dance again! We hope you enjoy our latest film project and please subscribe to our YouTube Channel!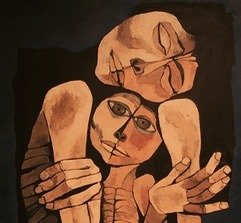 Strength and love to all the people affected by this global health crisis, not only the sick and their caregivers but all the lives and livelihoods disrupted. It is troublesome to watch friends and neighbours afraid to get too close to each other and we hope that this distancing will not become a part of our collective conscious for the long term. The comfort of closeness and touch is vital to our well being and our humanity. Sterile environments as a norm would be much worse for our immunity. Please stay aware as we take in the message that the other is dangerous and that contact and closeness is irresponsible. Amidst all of the isolation we should isolate this moment in time as a necessary measure but return to feel safe to embrace and to be embraced.
Abrazos, Deborah and Santiago
March 2020